Start of main content
Hosting up to 30 guests on its own, or 80 guests when combined with its adjoining neighbour – the Faraday Room, the flexible set-up of the space makes it a versatile and charming solution for business events.
The Boulton Room combines character with convenience, offering ground-floor access and a range of layouts, as well as wooden beamed ceilings and natural daylight.
Book now
Check availability and book by phone or via our live chat.
This room is ideal for…
Medium-sized meetings
Training sessions
Exhibitions
Talks and seminars
Events needing adjoining outside space
Board meetings
What you get…
Double doors opening onto stunning, landscaped Courtyard
Light, airy meetings space
Flexible seating options
Beamed ceilings
Wi-Fi and excellent AV facilities
Air-conditioning
Access to the Courtyard when breaking for refreshments
Fresh water machine on ground floor with biodegradable cups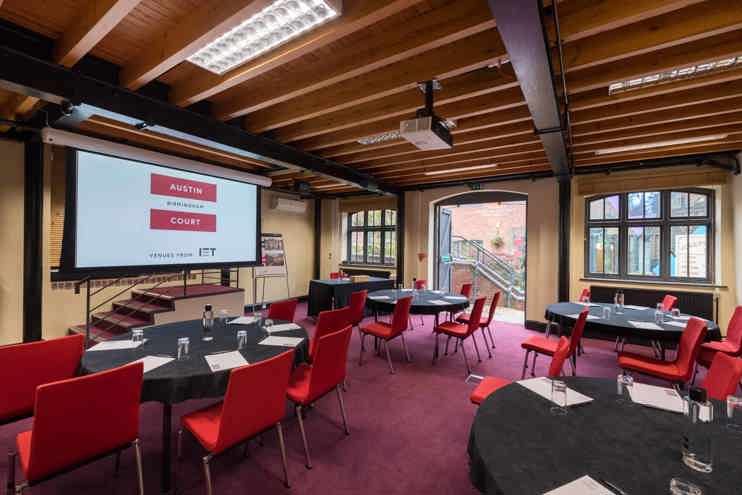 Half day rate
(9am - 12.30pm/1.30pm - 5pm)
Evening rate
(6pm to 9.30pm)
Did you know?
This room is named after Birmingham-born pioneer, Matthew Boulton, who was one of the most famous industrialists with the largest factory in the world in the 18th century. Together with his business partner, James Watt, they worked to manufacture steam engines and became a major contributor in the Industrial Revolution as one of the key producers of steam engines well into the 19th century.
Austin Court continues to recognise and celebrate the work of local legends and features an artistic welcome display in reception to showcase some of these.
Book now
Check availability and book either by phone or via our live chat.