Start of main content
Ten top tips for planning a corporate event
Published: Thu 2 Dec 2021
Here, we've put together our top ten tips for planning a successful corporate event.
Know your purpose
The heart of an event is its purpose, and you cannot make any further progress in planning without identifying exactly why and for whom you are creating the event.
The stages of the planning process and the facilities you will need will vary depending on the type of event, its size, and its audience – an event designed for potential or current clients will look vastly different from your team's Christmas party.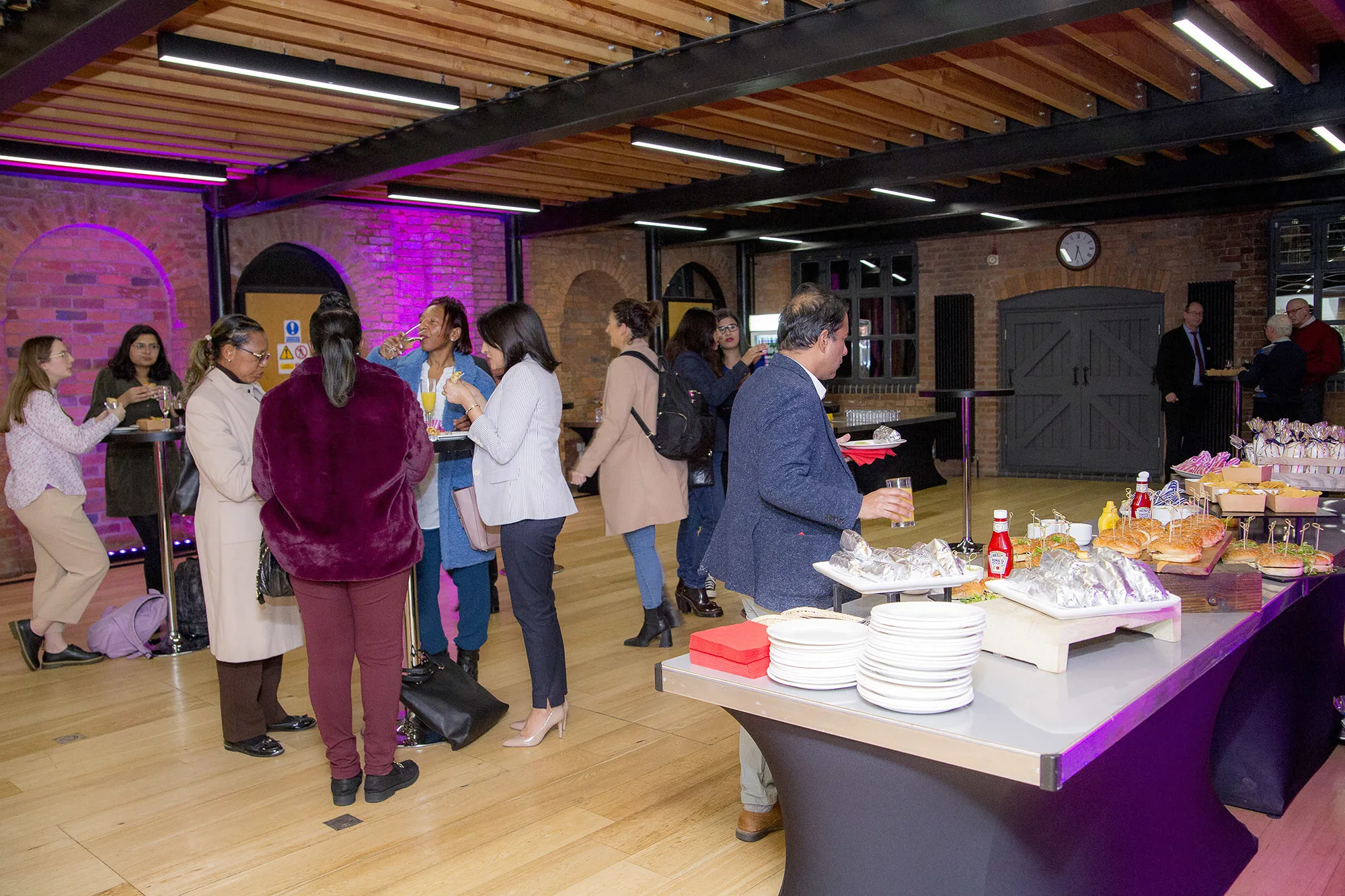 Keep budget in mind
We all want to host the most glamourous, memorable event – but we also have to be realistic and stick to a reasonable budget.
Keeping on top of attendee numbers as much as possible will give you a realistic idea of your incoming and outgoing finances, but ensure you allow for some flexibility for any last-minute changes.
Try to keep 10% of your budget aside for surprises that may crop up during the planning process.
Location, location, location!
When choosing the location for the event, consider its benefits and limitations in terms of proximity to guests and transport options.
Is it easy to travel via public transport? Is there available parking? A centrally located venue will be the most convenient for your delegates.
If alcohol is to be served, ensure that taxis or ride services are readily available, or that there is nearby accommodation for your guests.
Finding the perfect venue
Once you have narrowed down the location of your event, finding the venue is the next step. First of all, the style of venue – does your event suit a grand, traditional setting or a modern venue with state-of-the-art facilities?
Furthermore, what are your criteria for the venue? Do you require a dance floor, areas to mingle, formal dining areas, or a stage for speakers?
Capacity, budget, and integrated facilities such as technology or catering are all important considerations – consider an all-inclusive event package to take some of the pressure off planning.
Food, glorious food!
The right food can make or break your event, giving your guests a talking point as well as being a memorable part of the occasion.
Not only does your food have to be delicious, it also has to be practical – don't serve food that has to be cut with a knife and fork at a standing-only event, for example.
Choosing a venue with dedicated caterers will take some of the stress away from the planning process.
Now that the aftermath of COVID-19 has created a more hygiene-conscious perspective on shared food such as buffets, consider utilising individual bowl food or pre-made plates.
Going green
Sustainability is more important than ever. Eventbrite reported that 59% of event attendees felt that sustainability impacted their events in 2020, increasing from 6% in 2019.
Therefore, when making decisions for your events, the environmental impact should be considered. Choosing a venue with strong sustainable commitments is an ideal first step.
You can also integrate sustainable elements into your catering, such as a menu with multiple plant-based options, using recyclable packaging, and forgoing single-use plastics.
Tech/hybrid
Technology is also a huge factor in the success of your event. Proper audio-visual technology is vital in ensuring your event runs smoothly, from speaker presentations to digital branding.
Virtual events have also opened up a world of possibilities – according to a study by Impact XM, 72% of marketing professionals predict that hybrid events are here to stay. Do you have colleagues abroad?
Invite them along with hybrid technology – especially if it is integrated into your venue.
Bring the wow-factor
Gone are the days of boring corporate events - give your delegates an event to remember by bringing in some unique and exciting elements. Here, attention to detail is crucial.
Make presentations or speaker sessions fun and interactive, integrate team-building activities or entertainment and have bold and coherent branding to make everything feel cohesive and immersive.
Be data-driven
Staying mindful of the progress of your event planning is crucial in ensuring that nothing gets forgotten – so collecting data at every step of the way will aid you, especially if your event is open to more than just your team.
Keep track of who your audience is and what they are hoping to gain from your event, so you can tailor the finer details to their wants and needs.
Learning how to analyse your data properly is also the key to ensuring future success, understanding the positives and negatives of your event, and making upcoming ones even better.
Stay flexible
Coordinating a corporate event is filled with challenges, and something is bound to go wrong – and always at the last minute. Avoid stress by creating backup plans in advance and being flexible with your criteria.
Organisation is key in avoiding disaster, so ensure you have done your research into a plan B for venues, caterers, photographers, and any other components of the event, and keep all written communication and invoices safely to make sure you don't miss any hidden clauses.