Start of main content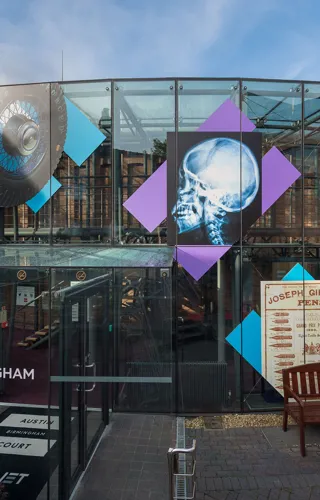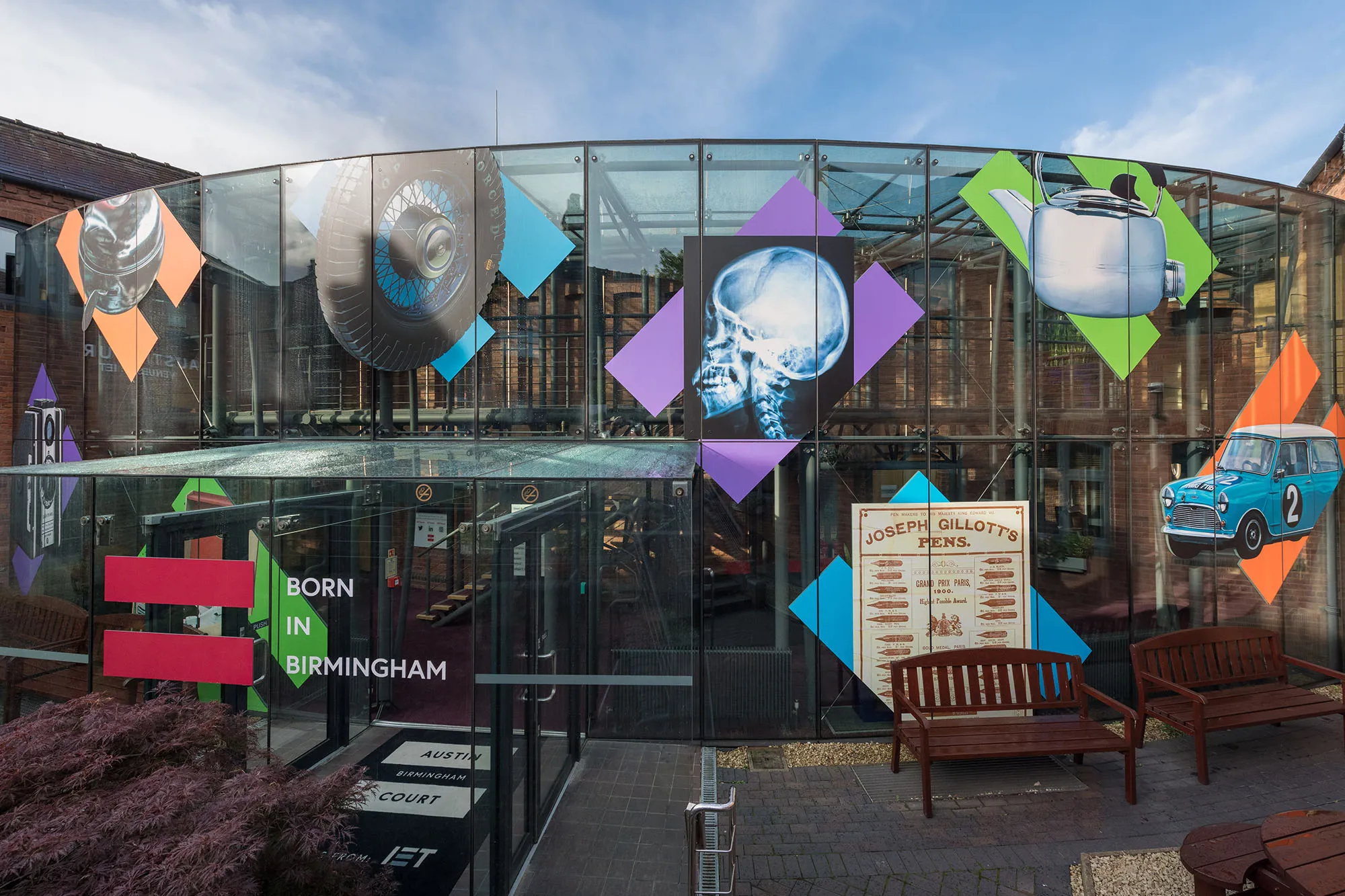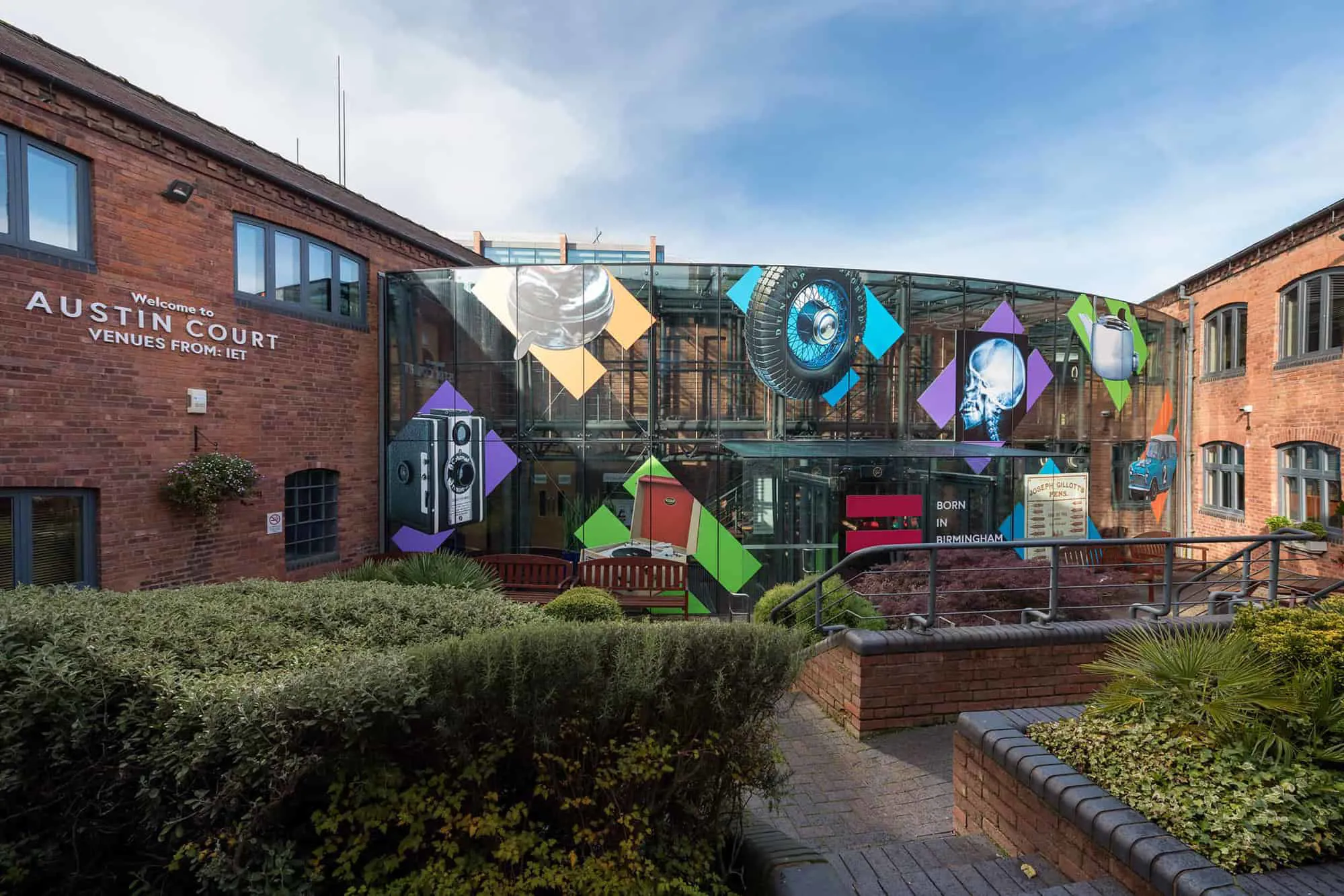 Bicycle bell
Classic Bicycle Bell
John Richard Dedicoat invented the bicycle bell in Birmingham, with patents appearing as early as 1877. At last, cyclists could make a distinctive and immediately recognisable warning sound to alert people that they were coming and therefore avoid accidents.
Dedicoat, who was an apprentice of James Watt, went on to become a bicycle manufacturer who made and sold the Pegasus bicycle.
Pneumatic tyre
1931 Dunlop Tyre
Founded in Birmingham by pneumatic tyre pioneer John Boyd Dunlop in 1889, the Dunlop brand has extensive manufacturing operations throughout the world.
Fort Dunlop, established in 1891 and based in Erdington, Birmingham was the original Dunlop factory and later produced around 300,000 specialised vintage, motorcycle and touring car tyres per year. UK production continued at the Birmingham factory until May 2014.
X-ray scanner
X-ray of a Human Skull
After X-rays were discovered in 1895, John Hall-Edwards saw the medical potential of the new form of radiation. On 11 January 1896, in Birmingham, he first used the radiation under clinical conditions by taking an X-ray image, or radiograph, of a needle, stuck inside someone's hand.
Long-term exposure to the rays meant Hall-Edwards had to have his left arm amputated in 1908 because of radiation burns.
Electric kettle
Bulpitt and Sons 1960s Electric Kettle
Arthur L. Large an engineer at Birmingham firm Bulpitt & Sons, invented the immersed heating resistor in 1922, bringing in the era of plug-in kettles.
The invention of a safety valve followed in 1930 by the same company, although it wasn't until 1955 that kettles had a thermostat that automatically switched them off when they boiled.
Today's electric kettles have changed very little, apart from some sleeker designs. Bulpitt & Sons are known today as the Swan brand, which was acquired in 1988 by the French company Moulinex.
The Camera
Coronet 1950s Twelve 20 Colour Filter Box Camera
Cameras have been made in Birmingham since 1880 and in 1926 the Coronet Camera Company joined the marketplace.
Most noted for its box cameras, it was established at 48 Great Hampton Street, Aston, by Frederick Pettifer. Coronet's aim was to market a cheaper range of cameras and by 1933 over 510,000 Coronet cameras had been sold.
Coronet also had links to another Birmingham based camera firm, Standard Cameras, which made a cheap box camera called the Conway and continued to manufacture cameras until 1967.
Auto-changing record player
1960s Dansette Tempo 4 Speed Portable Record Player
In 1932, Daniel McLean McDonald founded Birmingham Sound Reproducers. They made their own player, the Monarch Automatic Record Changer, that could automatically change between various settings.
In the 1950s they began selling auto-changing turntables to London firm J & A Margolin, to be used as a basis for the Dansette portable record player. More than a million of these players were manufactured and Dansette became a household name in Britain.
Pen
1902 Advertising Poster from Joseph and Gillotts
Around 1822, at 36 Newhall Street, Birmingham, in the heart of the Jewellery Quarter, John Mitchell invented a machine that pioneered the mass production of steel-nib pens at a time when most people used quills for writing.
John originally went into business with his brother William, but in 1825 William Mitchell set up a pen business on his own in St Pauls Square.
By the 1850s, Birmingham was a world centre for the pen trade and manufactured more than half of all steel-nib pens in the world.
In 1920 William Mitchell merged with Hinks, Wells & Co to form British Pens and in 1961 amalgamated with John Mitchell and Joseph Gillott's Pens. The company still makes pens in the West Midlands.
Austin Motor Company
Austin 1964 Mini Cooper S
Herbert Austin found the Austin Motor Company Limited in Birmingham, 1905, after falling out with the Vickers brothers, with whom he founded and ran The Wolseley Tool and Motor Car Company in 1901.
The new Austin was made in Longbridge. A 25/30 hp, high-class touring car with a four-speed gearbox, chain-driven transmission and a price tag of £650.
The Austin Motor Company Limited merged ownership, but not identity, in 1952 with long-term rival Morris Motors Limited, becoming The British Motor Corporation Limited.
On its introduction in 1959, the Mini was marketed as both the Austin Seven and Morris Mini-Minor, becoming a marque in its own right in 1969. 50 years on, all Prince four-cylinder petrol engines for Mini (and BMW) are produced at the Hams Hall Plant near Birmingham.